For Third Straight Year, Shillingburg Wins Seafood Festival Poster Contest


Local watercolor artist Judy Shillingburg is the winner of the Destin Seafood Festival Poster Contest for the third straight year. Chosen by the Destin Charter Boat Association, the Seafood Festival Committee, and the Destin Area Chamber Board of Directors and staff from among four entries, her poster depicts scenes from around the Destin harbor.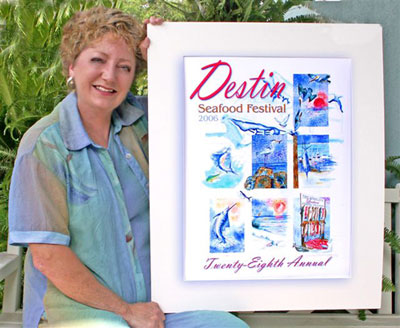 "I'm absolutely ecstatic," said Shillingburg. "I'm thrilled to win three years in a row."
Shillingburg starts her thoughts and sketches for the next year's contest at the end of each Seafood Festival. She keeps those notes on file until the contest and theme for the next year are announced. This year's contest requested the poster celebrate the spirit of the festival and of Destin's rich heritage as the "World's Luckiest Fishing Village."
"I'm so excited about this poster because it is what Destin is all about," said Shillingburg.
The 28th Annual Destin Seafood Festival will be held at the Morgan Sports Center on Oct. 6 – 8, 2006. This year's headliners include Rock 'n Roll Hall of Fame member Dave Mason on Friday night and the legendary band Kansas on Saturday night. Almost 100 local and regional fine artisans and crafters will participate, and local seafood restaurants, including The Back Porch, Pompano Joe's, Louisiana Lagniappe, Fisherman's Wharf, and Café Grazie, will serve favorite dishes.